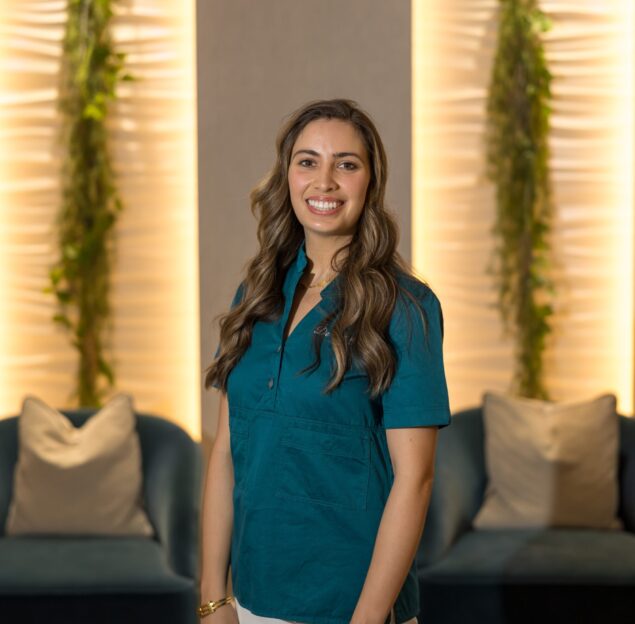 Dr Imogen
Dentist
Dr Imogen uses the knowledge of anatomy, dexterity, and artistic skill from her training as a dental surgeon as the basis from which to specialise in facial aesthetics. Having trained at the London School of Facial Aesthetics in 2014, Dr Imogen has become highly skilled in performing anti-ageing injectable non-surgical procedures. Founder and clinical director of White Swan Aesthetics in the UK – a string of successful facial aesthetics clinics – Dr Imogen often travels back to London to coach and train the doctors who work for her in these clinics. Having moved to beautiful Grand Cayman in 2017, she has enjoyed being able to bring the latest aesthetics innovations to this paradise island.
Like all the treatments we provide at Aventis, Dr Imogen takes a 360-degree approach to facial aesthetics, believing that in this way we can achieve the most natural-looking and successful results. Dr Imogen's ethos, therefore, is that a full-face consultation approach – including an analysis of each client's face shape, skin type and proportions – will always create the most beautiful and harmonious enhancements. Dr Imogen has done considerable training in skincare analysis and can provide tailored advice on how "in clinic" Skinboosters, Profhilo and chemical peels can be optimally combined with the ideal medical-grade skincare routine at home. This holistic approach has earned her a prominent reputation in the aesthetics industry and she regularly authors expert articles and commentary for magazines.
Over the years, she has gone on to build up an extensive training portfolio including masterclasses on tear troughs, jawlines and non-surgical nose enhancements. Dr Imogen attends numerous industry events each year including the Aesthetics Conference in London and most recently a hands-on course in Paris to make sure she is always at the cutting edge of this exciting aesthetic revolution.
Dentistry remains a passion for Dr Imogen and she continues to enjoy delivering the most comfortable, successful routine treatments including fillings, crowns, extractions and root canals for all her patients here in Cayman. She particularly loves seeing paediatric patients and making sure they have an enjoyable and successful dental experience, helping to set them up for a lifetime of excellent oral healthcare.
Back to Our Team